4 Refreshing, Healthy and Easy Summer Snack Recipes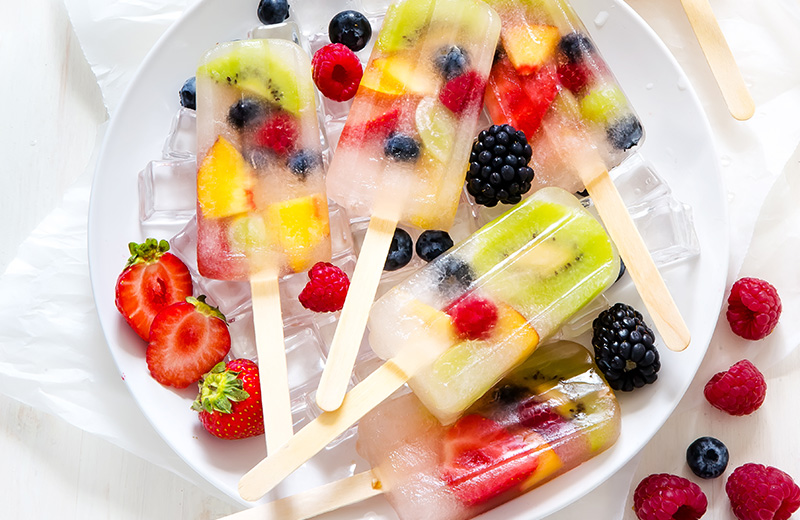 Published : June 02 , 2020
Latest Update : September 25 , 2023

Need a cold snack on these hot summer days? Here are 4 easy to prepare recipes for healthy, refreshing and satisfying summer snacks that won't take you more than 5 minutes to prepare
Homemade Strawberry Frozen Yogurt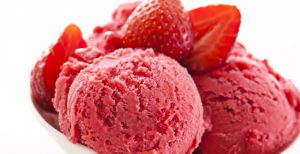 A perfect on-the-go high protein snack that your children can enjoy
Ingredients
4 Cups frozen strawberries
1 Tablespoon fresh lemon juice
3 Tablespoons agave nectar or honey
1/2 Cup zero fat plain greek yogurt
Instructions
Add the frozen strawberries, agave nectar (or honey), yogurt and lemon juice to the bowl of a food processor. Process until creamy, about 5 minutes. Serve immediately or store in the freezer.
Nutrition facts per serving
(4 servings)
Calories: 94 calories, Fat: 0.4 grams, Fiber: 2.9 grams, Protein: 3.25 grams
2) Banana Ice cream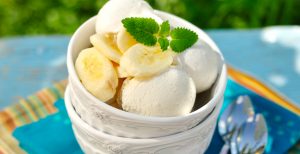 A great alternative to regular ice cream which usually contains more than 200 calories per scoop.[/caption]
Ingredients
1 small banana, peeled, sliced, and frozen
3 tablespoons zero fat milk
1 tablespoon chopped walnuts
Instructions:
Place frozen banana pieces and milk in a blender or food processor; process until thick. Top with walnuts.
Nutrition Facts:
(1 serving)
Calories: 160, Protein: 8 grams, Fiber: 3 grams
3) Coconut Water and Fruit Popsicle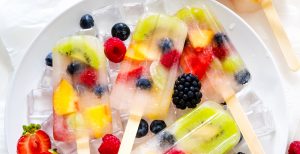 An all-natural popsicle loaded with electrolytes, vitamins and minerals.
Ingredients - ½ cup Coconut water - ½ cup of fruits
Instructions 1. Dice up a variety of fruits 2. Mix the fruits with the coconut water in a cup or popsicle molds 3. Freeze
You can enjoy as is or you can add stevia or agave syrup to add the sweetness And voila!
Nutrition Facts:
(1 serving)
Calories: 82, Protein: 1 grams, Fiber: 3 grams
4) Watermelon popsicles/ Frozen Grapes
The simplest and delicious summer snacks you can ever think of are frozen watermelon popsicles or frozen grapes! They both have only one ingredient.
Watermelon popsicle: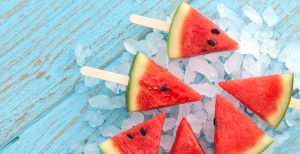 frozen watermelon popsicle, a healthy snack that kids love and are ridiculously easy to prepare.
You just need cut the watermelon into pieces, trim off the rind, insert the stick and freeze. One piece has only 60 calories.
Frozen grapes: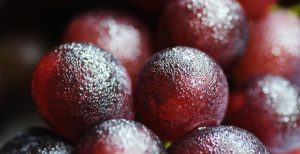 Frozen grapes, another delicious low-calorie treat that satisfies our cravings during hot summer days!
Rinse the grapes, place them in a bowl and pat them dry with a paper towel. Spread out the grapes as much as possible so they don't touch each other. Freeze for 4-5 hours et voila! 17 grapes have 60 calories.