Delivery
My Work as a Dola Has Changed My Life
April 07 , 2019
I feel hugely privileged to call myself a doula and incredibly lucky to have found my perfect role at a comparatively late age! 
During the years bringing up my four children I was very lucky not to have to work full time but always worked part time in medical administration whilst dreaming of one day becoming a midwife as I was always deeply interested in anything to do with pregnancy and birth. 
Aged 32 I gained a place at university in UK to study to become a midwife, I was so excited! One month later I received the very surprising and delightful news that I was pregnant with my fourth child, so my plans were put on hold!
Moving on 10 years I was helping my daughter research midwifery as a career and I discovered what I immediately knew was my dream job, a doula. 
Six years later I am so happy to have a life revolving around birth and babies! One of the things I love most about the job is the amazing relationships I have formed with mums and dads from so many different countries and cultures, regularly discovering new traditions, I feel like I am always learning. 
I usually meet new clients at around 20 week point but have some at 10 weeks and some at 40 weeks!  After our initial meeting I try to get together on at least another two occasions as I think it is so important to feel comfortable together as we are going to share one of the most amazing and intimate moments of their lives.
After being hired by a couple I am on the end of a phone 24 hours a day and often get calls in the night from parents needing reassurance.  From 37 weeks I am on call to attend the birth within an hour, so my social life gets put on hold!
Generally speaking, I tend to go to my client's home when they are in early labour, helping them relax and breathe as we know that it is beneficial to stay at home for as long as you feel comfortable.  I help out with anything practical, ironing, cooking, looking after other children, I have done it all!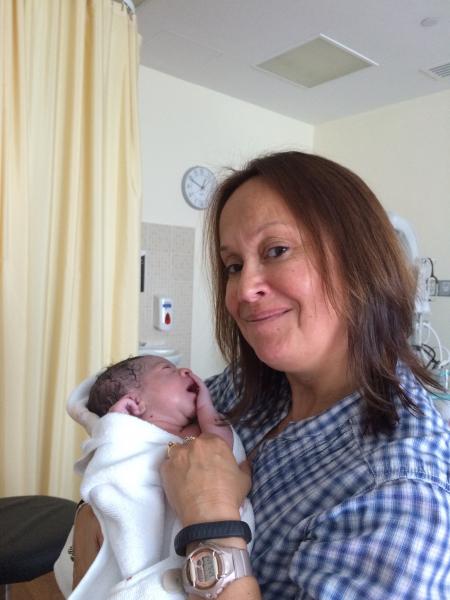 A big part of my job is to help the parents decide the right time to go to hospital.  This can be quite a responsibility!  My aim is to get mums to hospital when they are well in established labour, I am never happier than when a mum is examined at hospital and we are told she is 8cm dilated (even better 9 or 10)!
I stay with mum and dad throughout the labour, however long or short.  The shortest time I have been with a couple is one hour and the longest 30 hours! 
Labour can be long and confusing, and I often describe myself as a birth translator, helping mum and dad understand what is going on, explaining any medical terminology that they may hear and generally helping to keep them calm and relaxed.
Watching a baby come into the world is undoubtedly one of the most awe-inspiring things anyone can ever see.  I am continually amazed by the strength and courage of women who grow and give birth to beautiful babies, allowing their bodies to do their job. It is such a privilege to be present at a birth, I will always remember the first birth I attended, Gabriella, a gorgeous little girl, 6 years later I have attended 70 births and each one fills me with wonder, I am moved to tears every time and I hope I always feel this way.
After baby is safely here I spend time with mum and dad, helping them latch baby and have the first feed. I feel it is so important for parents to have support at this stage when they are exhausted, uncertain and nervous!
I tend to go home about two hours after baby has arrived and stay in constant contact in the following days whilst being careful not to intrude at this very personal time.  Some mums need more postnatal support than others especially if they don't have family nearby and I am there to help them as much or as little as they like.
I absolutely love keeping in touch with all my clients and often attend birthday parties and family get togethers.  My phone is full of pictures of babies, I love getting updates.
I honestly can't tell you how much becoming a doula has changed my life. I urge any of you who feel this maybe the job for you to do it, it's never too late and your life will be full of joy.