Health
5 Simple Yoga Poses to do with Children at Home
November 01 , 2016
Noor (my three year old niece) is my favorite yoga partner. We bonded over yoga when she was very little and had just started learning her first words – one of which was 'HOGA'. As Noor lives in Dubai, we play and practice yoga together when she comes to visit us in Amman. Although we see each other every 3-4 months, she never forgets what I teach her and practices with her mom in Dubai.
In my previous article on the benefits of doing yoga with children, I mentioned how yoga helps infants make a connection to things they are already learning especially when it comes to animals and nature. For the slightly older children, it is a safe way for them to build body awareness, it helps them with their strength and flexibility and it refines their balance and coordination.
Here are Noor's top five poses:
1. Downward Facing Dog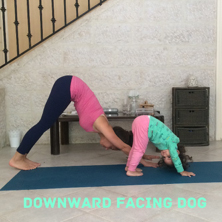 Down ward facing dog is a great pose to strengthen the arms and legs. A fun way to do it with kids is to ask them to locate their toes once they are on their hands and feet. This pose is super easy for them (more challenging for adults) as children are very flexible!
2. Airplane pose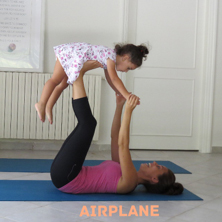 Airplane is fun for the obvious reasons and most likely many parents already do it with their children. I remember playing airplane with my father when I was very young. This pose is more common in Acro-Yoga (a style of yoga involving partner work).
3. Upward Facing Dog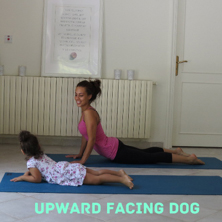 Upward facing dog is a great way to open the back and strengthen the arms. You can start by lying on your belly and then lifting up using the arms. It may be a little complex for young children but they can use their forearms instead of hands, just like Noor is doing in the picture.
4. Happy Baby Pose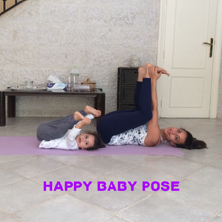 This pose is called 'happy baby' because it represents a very common position happy babies get into. It's no surprise that its Noor's favorite pose. It is a soothing pose and nicely massages the spine when you rock from side to side.
5. Butterfly Pose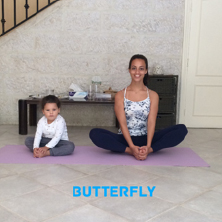 This is also an easy pose for children. They just have to bring the soles of their feet together and open their knees to the sides. Most children will learn this pose in their Physical Education (P.E.) class at some point in school. Butterfly is a good way to open up the hips, just make sure the spine remains long and extended.
So here they are, Noor's favorite poses! They are simple, fun and do not require a lot of time. The next time you decide to do a few yoga stretches at home, give these a try and invite your kids! Stretch your muscles, build some strength and spend some quality time together.