Mothers' Stories
You are one hundred days old today!
November 18 , 2016
By: Hala Abu Taleb, mom of a baby boy.
You are one hundred days old today! For your one hundred years birthday I will not be there with you, but I want you to know this; by  your 100 days birthday I grew 100 years older, in a good way that is,  for I became wiser.  You have managed to teach me more lessons than I have learnt during my whole life, and you have evoked hundreds of feelings some of which I have never felt before. "I love you" might be an understatement and a cliche' as well . Honour and Gratitude sounds more like it to me.
I was sad and I cried all the time even when I was feeding you. My doctor told me I should pull myself out of this. This can be depression. I knew it for I have read about it
I find myself often in tears, tears that feel hot sometimes and bitter at other times. Although the doctor says its my body and the crazy changes in my hormones, I feel it's the reality check one gets for being ignorant and naive for so long. You taught me what it meant to stand alone and survive and it hurts. Alone with this little colicky body that exhausted and drained mine, with the little face screaming at me day and night till neither I or my family had a clue of what to do, and the smile that pushed tears running down my cheeks washing my tired soul  and made me realise what "good luck" means.
I was sad and I cried all the time even when I was feeding you. My doctor told me I should pull myself out of this. This can be depression. I knew it for I have read about it. The past sleepless 100 nights, let alone the fact that I cant sleep or wake up when I want to anymore, or the many many times I had to be late to work, or the times I forgot to eat all day long. My life, the one I used to have ended somehow, and all of a sudden I am not the one in control of it.
One hundred days of solitude if I may say for solitude it is. For long, I have appreciated loneliness and sought it at any given opportunity. But now, you came along and imposed it on me and for the silliness in me I rejected it at first. I never saw that you were giving me a chance to reflect on what is true and honest in my so called life. To know who came out of their way for me and who will always be there for me. To you, my family a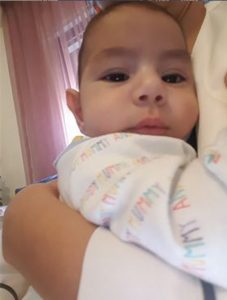 nd friends, I send you my best.
One hundred days have passed and my heart had missed one hundred beats. Sometimes out of fear for your wellbeing, other times mourning what was once my life, and many other times my heart missed a beat out of love, fascination and Awe (not the least because of the smell of your diapers!).
A flow of endless emotions runs through this heart and confuses the mind but never fails to soothe the soul. I am, because of you, complete and full; full of ends and beginnings, full of gains and losses and full of sanity and insanity. I love you for that, for making this heart true to its name, pumping into my body and soul all kinds of rich and unexpected emotions. I take it all day by day. For 100 days now, each day is the day!
You are 100 days today my Lolo, and I love you. I might not be the perfect fit for this mission but I hope I can make you feel the way I feel. How I always felt and still feel when I smell my mother's odour when she's near, and the security that brings to me.
On your one hundred days birthday, I am thankful! I know many will find it hard to believe with everything I went through but I am thankful you are here. On your 100 days birthday you are stronger, smarter and calmer, and I grew up so much along with you. I know now that since I have managed to get through all that I had to go through, this too shall pass.
I am trying my best, for 100 days now, to secure your upcoming 100 years, caring for nothing but to reach my goal. I cry and I smile, I argue and defend, and I race through the day knowing that I will get there if I let you teach me more.
One hundred days of love and many many happy returns of health, beauty and happiness. Love you Lolo.